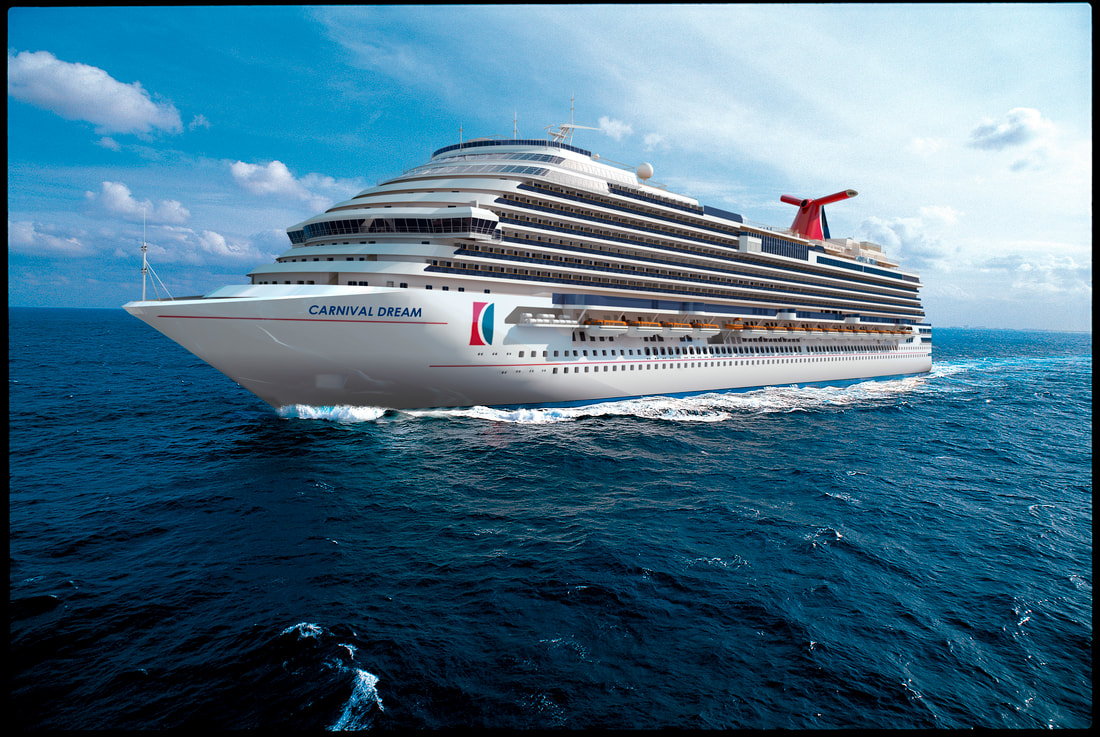 What's the Carnival Dream all about?
It's one thing to be fun, but it's another thing to be first. Carnival Dream was at the forefront of a recent wave of amazingly innovative and fun Carnival ships. As the genesis of the Dream class, Carnival Dream set the direction for the ships that followed in her footsteps — first Carnival Magic and then Carnival Breeze.
But back to Carnival Dream: the ship itself is a unique experience with the way-fun RedFrog Rum Bar and the very cool BlueIguana Tequila Bar. Get your appetite ready, because you're gonna need it. Carnival Dream features two dual-level dining rooms, a gourmet steakhouse and dedicated sushi spot Bonsai Sushi. It's also got a full menu of our latest and greatest casual spots for a bite: BlueIguana Cantina, Pizzeria del Capitano, Guy's Burger Joint and Guy's Pig & Anchor Smokehouse. (That's Guy as in Guy Fieri, by the way — so the you know the food's delish.)
Carnival Dream also features the borderline-magical Alchemy Bar and Ocean Plaza, which combines tasty treats with perhaps even tastier entertainment. Entertainment options are all up and down the ship, and so is soaking-wet fun, from the heart-racing waterslide action at WaterWorks to the soul-soothing Thalassotherapy pool at the Cloud 9 Spa.
Despite its name, Carnival Dream is definitely a reality. Can't believe it? Pinch yourself… and book your dream cruise today.

​Carnival Staterooms
On a Carnival cruise, your stateroom is your home base. When the day is done, once you've had your fill of fun, you'll head back to your stateroom and settle in for the night. No matter which kind of room you choose — whether you're thinking of a simple Interior or Ocean View, or going grand with a Balcony or Suite — you'll find yours a well-appointed way to wind down the day. And whether it's day or night, all staterooms have a room steward on duty, an attendant you can call for room service, and more sweet perks inside.
Extravagant Dining
All of these fine dining experiences are included with the price of your cruise!
GUY'S BURGER JOINT -
BLUE IGUANA GRILL -
NIGHTLY FORMAL DINING -
GUY'S PIG & ANCHOR BBQ -
LIDO RESTAURANT -
SWIRLS -
MONGOLIAN GRILL -
PIZZERIA DEL CAPITANO -
THE CARNIVAL DELI -
SWEET SPOT -
DAILY BUFFET BREAKFAST -
SEADAY BRUNCH -
For a small fees while on-board you can also dine here!
PREMIUM STEAKHOUSE
SEAFOOD SHACK
BONSAI SUSHI
THE CHEF'S TABLE
COFFEE BAR
YOU CAN ALSO PURCHASE VARIOUS DRINK PACKAGES THAT INCLUDE ALCOHOL
Things to Do
Lip Sync Battle -
HASBRO, THE GAME SHOW -
CLUE - MURDER MYSTERY -
WATER WORKS - Pool Lounge area
SERENITY ADULT DECK -
PLAYLIST PRODUCTIONS -
THE PUNCHLINER COMEDY CLUB -
STAGE SHOWS -
DIVE- IN MOVIES -
MEGA-DECK PARTY -
PIANO BAR -
KARAOKE BAR -
EXERCISE ROOM AND TRACK -
SPA & HAIR SALON -
CASINO AREA & more